It's no secret that horses and riding are an important part of camp life at LBMC! For our Angels who love equestrian sports, as well as the girls who attend Bryn Mawr Riding Camp, the stables, arenas and trails are where amazing summer memories are made. To make this magic happen, we rely on staff members who love horses and riding just as much as our campers — but our campers aren't the only ones who benefit! A summer equestrian job at camp comes with opportunities that our riding staff wouldn't find anywhere else.
An equestrian summer job with a difference
Ask Emily Tyler, our riding camp director, why she has stayed at Bryn Mawr for more than a decade, and she'll tell you: Working at camp is an experience like no other.
"The connections and bonds that you make with campers and staff are indescribable," she said. "You also get to immerse yourself in an environment where you're learning about all aspects of horse care, stable management, and teaching."
Camp is a place where equestrians can share their love of horses and riding with the next generation.
"The campers who are here for the equestrian experience, they share that same passion," Emily said.
Gain teaching experience without turning pro
For competitive amateur riders, there's a significant benefit to working as a camp counselor: USEF rules have an exemption that specifically allows amateurs to work at camp.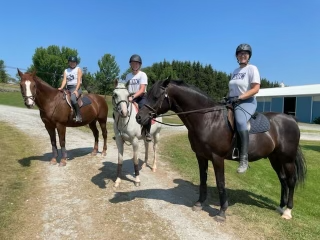 Many equestrian summer jobs have a significant drawback for competitive riders. In order to teach riding lessons for pay, they must give up their amateur status with U.S. Equestrian. It can be a tough choice if you want to gain teaching experience but aren't ready to compete as a professional.
Because our riding counselors also live in cabins and supervise campers away from the stables, they are able to take advantage of the camp exemption and maintain their amateur status! A summer camp equestrian job is the perfect way to develop your skills as a riding instructor while you continue to show at your preferred level.
Hone your stable management skills (and more)
Between our on-campus riding stable and our 50-acre Bryn Mawr Farms complex, our riding staff cares for about 40 horses each summer. Our horses come from the equestrian teams at the University of Findlay and Centenary University, and Emily and her staff take pride in caring for these animals, who need to remain in tip-top shape for intercollegiate competition. It's a great opportunity to learn and improve stable management skills.
"We monitor for specific horses' nutrition, hoof care, wound care, and basic health management," Emily explained. "Our staff really get to learn a lot about caring for horses and running a stable."
But one of the things that makes camp special, she added, is that there is so much to experience outside the barn.
"The benefit of being at camp is you get to try new things," Emily said. "Campfires, paddle boarding, tubing, adventure programs — you get to do all the 'camp' things." That includes favorite fun traditions in the arena as well, like horse shows, fun rides and games, horse beauty contests, and in-house competitions for staff and campers.
Make friendships that last
Above all else, Emily added, the best thing about an equestrian job at camp is the same thing that makes any camp job special: friendship.
"You make friends from all over," she said. "You meet people from all different walks of life — not just staff but campers, too. You form close bonds with people from all over the world."
When you combine that with the teaching experience, professional development, and fun, she said, it's hard to compare working at camp to anything else.
"Camp is a one-of-a-kind experience," Emily said. "There's no other equestrian job quite like it."
Are you looking for an equestrian summer job where you can gain experience in teaching, stable management and leadership — all while having the time of your life? Click here to learn more and apply today!