While no two days at camp are ever the same, we do stick to a pretty regular schedule! The morning begins at 8 a.m. with Reveille. We raise the flag and eat breakfast together, then clean up our bunks and head out for a morning filled with activities. After lunch and Rest Hour, we're recharged and ready for more program fun. After a shower, dinner and some free play, we enjoy an evening activity and snack before it's time for bed.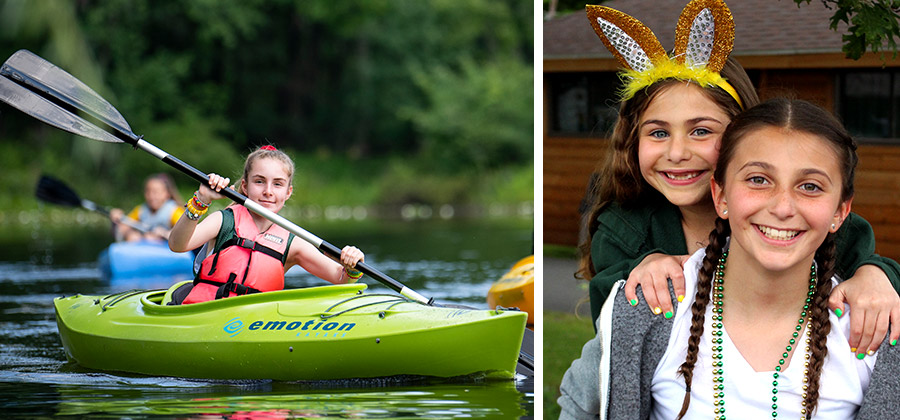 Below is a sample schedule
Time Activity
7:30 AM Early Bird Programs
Some campers get up early to participate in optional programs like Tennis Plus, gymnastics and team practices.
8:00 AM Reveille
A bugle call plays over the PA to wake up camp, followed by announcements and morning music.
8:25 AM Lineup
Campers and staff gather at the flagpole for morning announcements & flag raising.
8:35 AM Breakfast
French toast? Hot oatmeal? Fresh berries? Bagels and lox?
9:10 AM Clean Up
Campers & staff return to cabins to tidy up for inspection.
9:40 AM Age Group Assembly
Group leaders gather campers & staff for announcements and to review the day ahead. Any schedule changes/additions will be announced at this time.
10:00 AM Period One
11:05 AM Period Two
12:10 PM Lunch
Rest Hour
Campers & staff return to cabins for a little R&R; group leaders deliver the day's mail.
1:45 PM Junior Group Assembly
Junior group leaders, campers & staff meet for further announcements.
2:00 PM Period Three
3:05 PM Period Four
4:00 PM Snack!
Campers & staff line up at the Dining Hall for a snack break.
4:20 PM Period Five
5:15 PM Shower Hour
Campers & staff return to the cabins to shower for dinner.
6:05 PM Line Up
Announcements are made and the flag is lowered
6:15 PM Dinner
6:50 PM Campus Time
Campers have free time to play, write letters and relax all around camp. Staff members are at all open program areas to provide supervision.
7:30 PM Evening Activity
Anything from an age group play to an all camp campfire or special event.
9:00 PM Snack
After singing the Alma Mater and collecting a bedtime snack, campers and counselors return to Cabin Row for the night.
9:15 PM Taps
Junior Campers go straight to bed at the Taps Bugle, while older Senior Camp girls take some time to relax and settle down before calling it a night.