Lake Bryn Mawr Camp was founded in 1921, making it one of the oldest traditional girls' summer camps in the country! We believe in creating an environment where our campers (and staff) feel comfortable trying new things, expressing themselves, and growing and learning through play.
At the heart of everything we do is the Angel Code: Loyalty, Beauty, Merit, and Comradeship. These values help guide our campers to be good sports, good citizens, and good friends.
Camp traditions are an important part of our community and culture, from Talent Night to Gold Rush to Wacky Wednesdays to Chocolate Banana Night to Color War! Camp spirit rings through the Dining Hall at mealtimes, and we like to end all camp events by coming together to sing the Alma Mater that honors the special place Bryn Mawr holds in each of our hearts.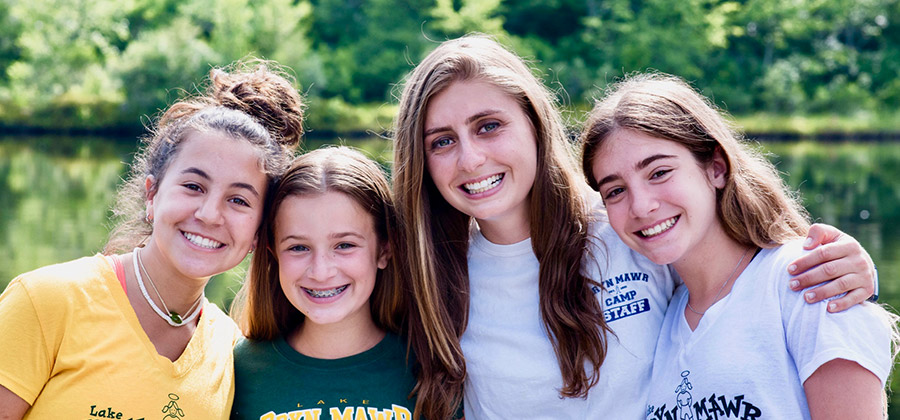 Our Campers
Bryn Mawr is a summer home to approximately 320 campers, ages 7 to 15. Most of our campers return summer after summer — you will hear them talk about "living ten months for two!" Campers live in bunks, grouped by age, in an area of camp known as "Cabin Row." Each cabin houses between 8 and 14 campers, along with two or three counselors who are supported by a Group Leader and a Division Head.
Within the age groups, each individual cabin has its own community and personality. That's why we wait to assign counselors to bunks until our staff training week. Once we have time to get to know you, we will be able to place you in the cabin that will be the best fit for you, your campers, co-counselors and Group Leaders!