Working at camp is more than just a summer job — it means joining a community with its own history, traditions, and culture. We often hear campers talk about their "summer sisters" and their "camp family," and that got us thinking… if Bryn Mawr were a real member of the family, who would it be? We asked some of our returning staff to imagine LBMC as a relative. Here's what they had to say:
"Bryn Mawr would be a grandma. One, because Bryn Mawr has been around a long time! Second, because Bryn Mawr cares about you and your development as a person."
"Camp would be the fun aunt 😂 It's your home away from home and you can do all sorts of things that no one outside of camp ever has to know about. You have so much fun without a care in the world, it puts a pause in the outside reality, and you still grow so much in ways you wouldn't have normally."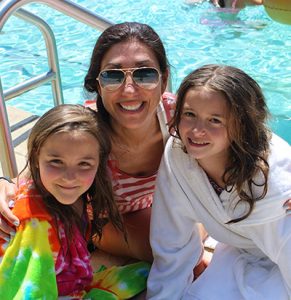 "Bryn Mawr is an older sister. You learn so many lessons but also can be silly and goofy with them."
"Grandpa. Because he's far off and full of every possible range of emotions. When you finally see him, it's a big deal and you cherish it. He can be stern and has a lot of expectations for you to be a respectable child but also knows you're a child wants you to be happy and enjoy life. He's one to make proud and to be proud of."
"I feel like there's definitely a nurturing element of Bryn Mawr, so it has to be someone older, but then it's also really fun and a little bit out of everyone's comfort zone, so more like a fun cool auntie."
"Bryn Mawr would be like an uncle to me. I don't see them very often, but when I do, it's like no time has passed. They are wise and after seeing them, I feel as though I have grown immensely."
Working at camp is like being the fun aunt!
"I think Bryn Mawr would be the aunt of the family. I really look up to my aunts for comfort, laughter, hugs, advice and I feel like we get all of that at camp. The aunt is important because we are close and they get to see us grow up, but it's different than a relationship with our parents. We know they care and love us and want what's best for us, but we also get to have a little independence with them and see ourselves grow."
"I don't think you can pick just one. Bryn Mawr encompasses every role of a family, which is why it is so special. Bryn Mawr provides the love and support of a mom and dad as they guide the staff to grow and learn through every experience. Bryn Mawr provides the siblings to laugh and cry with through the good and challenging times. And of course the extended family that brings the impromptu moments, silliness, and adventure into our lives!"
"Bryn Mawr is my mom. Bryn Mawr is my collection of aunts I admire. Bryn Mawr is my sisters. Bryn Mawr is my endless female cousins. Bryn Mawr to me is every fierce and powerful woman in my life, in my family. There is no place else where I feel so empowered and needed and like I am welcomed with open arms. Bryn Mawr envelops you in love and warmth and empathy and that inspires you to give that back tenfold. It inspires me."
If you are ready for a summer job that's more than just a paycheck, you might be ready to join our camp family! Click here to learn more about working at camp, discover summer job opportunities, and apply today.