Recently on the blog, we've talked about how we help campers develop leadership skills. Being a leader isn't a task that's ever complete — leadership is an ongoing process of growth and development. Early spring is the time of year at camp when our senior staff — the leaders of the leaders at camp — focus on continuing to develop their own leadership skills. Here are a few of the things we do to keep growing:
Tri-State Camp Conference
One weekend each March, we gather with other camp directors and staff members for the American Camp Association's Tri-State Camp Conference in Atlantic City. "Tri-State" is the nation's largest conference for camping professionals, and we are amazed that no matter how many times we go, we always learn something new!
This year's Tri-State keynote speakers were Seth Godin (a bestselling author, marketing pioneer, blogger, Business Week's "ultimate entrepreneur for the information age" and former Camp Arowhon camper) and Jean Kilbourne, recognized for her groundbreaking work in the exploration of the connection between messages in popular culture and their effects on girls and women. We also got to hear from some camp favorites (speakers like Bob Ditter, Jay Frankel and Michael Brandwein), and share some knowledge of our own. Drew volunteers on the program committee as the liaison between the professional speakers and the American Camp Association and Britton ran two roundtable discussions — one on being a head counselor, and one on the challenges of being a woman in camping. At past conferences, Bryn Mawr leadership team members have helped lead sessions on programming, facility management/safety and working with campers and staff.
Tri-State gives us a chance not only to hear from experts in child and staff development, but to reconnect with our colleagues in the camping industry to share ideas and best practices to keep making camp safer, more fun and more rewarding for campers and counselors alike.
Training with Bob Ditter
We have been fortunate enough, over the past eight years, to have developed a fantastic working relationship with the incredibly insightful Bob Ditter. Bob is a clinical social worker who dedicates part of his Boston-based practice to helping summer
camps ensure positive experiences for their campers, staff and parents. Over the years Bob has visited camp many times to help train our counselors and talk with campers, and last week he sat down with Jane, Britton and our division heads to begin preparing for the summer. Bob works with our leadership team to help them work well together and provide an emotionally and physically safe environment for campers and staff. If you read this week's blog post from Jocelyn Glantz, a Bryn Mawr parent and our new Junior Camp assistant division head, you've gotten an honest firsthand reaction to one of Bob's leadership training sessions!
Annual spring leadership retreat
Each spring, we gather together our entire leadership team — directors and assistant directors, division heads and key staff members — to begin preparing for camp in earnest. It's important to us that our leadership staff are on the same page as Jane and Dan when it comes to camp philosophy, policies and practices, and the leadership retreat held at camp is one of the steps we take to ensure that's the case.
At this year's leadership retreat, held the first weekend in April, we introduced new key staff members and gave the team an update on how things are shaping up for the summer — enrollment and staffing, operations and calendar overviews, and any business we need to take care of as we head into the camp season.
The rest of the weekend is spent talking about ways we can continue to improve the camp experience for our campers and staff, and making plans for the summer. We share the new knowledge we picked up at Tri-State, talk about what worked well last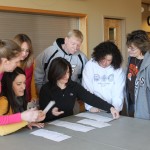 summer and what needs to be updated, and brainstorm new ideas for activities, special events and other fun additions to camp. Some of this is done in small groups (the division heads might talk about some camper-specific topics while operations staff discuss the physical running of camp), but major decisions are made by the whole group. For example, one of the questions our full leadership team discussed this year: How do we continue to make the camp experience valuable to parents while creating lasting memories with their children? How do we keep things fresh and exciting? This led to a variety of suggestions: Junior Camp division head Marjori Schecter will work with campers to create end-of-summer photo collages. Ty Widman, our director of adventure, will lead small groups of campers who want to learn outdoors skills, like how to build a campfire. And don't be surprised if your daughter tells you about taking a moonlit barefoot walk on Wembley Field (supervised, of course) or a trip to the Court of America with Senior Camp division head Max Matovic to look at the stars, or sends you a photo of herself with her Peanut Mom, explaining camp traditions.
These are just a few of the ideas we came up with for keeping parents connected to their campers and camp life. And that was just one of many fruitful conversations we had over the weekend. Our leadership staff members have hundreds of summers at camp between them, and we value the knowledge and experience they bring to the table.
If you have any questions about the ways we continue to promote leadership development year-round, we'd love to talk about it with you!