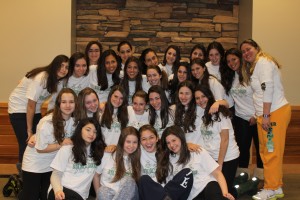 We recently got back from a fantastic weekend at camp.
You might be wondering: Camp? In March?
Absolutely! One weekend every March, we mark an incredibly important event at camp: The Bunk One March Meeting. Jane, Dan, Britton, Drew, Pilar and Ty gather at camp for a special weekend with the ninth grade girls who will be our oldest campers — our Bunk One campers. The March Meeting is the very first official event of their Bunk One summer, and the girls have looked forward to it for years — some of them since they were tiny Manor House campers, or even before they started at camp, if they came to see older sisters and cousins on Visiting Day!
The March Meeting is an important milestone for our "Super Seniors." Not only do the girls take care of some major business like picking special Bunk One uniform and selecting the top-secret themes for their Color War teams, but we take that time to help them start thinking about what it means to be the leaders at camp.
Bunk One is a special experience not just because it's the final summer as a camper, but because our Bunk One campers serve as peer leaders for the rest of camp. They captain the teams in our annual Color War, lead cheers in the dining hall and the nightly singing of the Alma Mater, and help out with younger girls' cabins during weekly leadership evenings and during special events. During the March Meeting, we talk to the girls about their leadership role in camp and what will be expected of them as leaders, but the truth is that they've been preparing to take the leadership mantle for years.
While Bunk One campers are the most visible leaders among our campers, those leadership skills don't just magically materialize when campers finish the ninth grade. They've been learning leadership skills throughout their summers at camp, both by seeing them modeled by counselors and older campers and by learning how to be good leaders on the playing field and in program areas. We teach campers that being a leader means being kind to one another, and it means knowing how to "do the right thing" even when it doesn't seem like the easy thing.
By the time they get to Bunk One, campers have been developing leadership skills for many summers, and one of the reasons campers look forward to their Bunk One summer — in fact, maybe the biggest reason — is that Bunk One plays an important leadership role in many of the girls' favorite camp traditions. From secrecy-shrouded Chocolate Banana Night and the excitement of the weeklong Color War that caps off the summer to routine events like mealtime cheers and Friday night talent shows, Bunk One campers take the lead, getting camp spirit high and helping younger girls learn how camp traditions work. By watching them and following their example, younger girls learn that being a leader is something that's fun and something to look forward to — and an important part of growing up at camp.