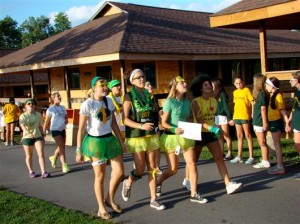 One of the most endearing and sacred things about Lake Bryn Mawr Camp are the traditions: significant to each camper, each one demanding its own reverence, helping us unite as 'summer sisters'. These traditions are what transform Lake Bryn Mawr in the thoughts of the campers from 'a camp' to 'my camp'.
In 1992 a new tradition was started at Bryn Mawr. A time capsule was built to capture the timeless spirit of camp with each bunk and camper putting in something significant to them—there is not a list of what went into the time capsule, which is part of what makes it so exciting to open now, 20 years later. Who knows what will come out–what favorite camp memento, treasured letter, funny memory? The Bryn Mawr time capsule will be opened on Alumni Day, Saturday August 4th. We have invited the alumni who took part in the time capsule as well as those who came before and after to be with us for this special event. Back in 1992 we did not use emails—we sent out a letter in the mail to all the camp families letting them know about our time capsule. This year, in 2013, we sent out emails to our camp families as well as putting a post and video on our Facebook page. The time capsule has become a way to bridge 20 years of camp and we are going to use it to connect us to the future generations of Bryn Mawr campers as well. We have invited every bunk to bring something special with them on the opening day so that we can then start a new time capsule to be opened in summer 2033.
The face of Bryn Mawr might change on the surface but the feeling it gives you never does. Bryn Mawr is home to all of us and part of what makes it that way is that the campers know they are enjoying the same activities, in the exact same ways, as generations of campers did before them. We might not be here in 20 years to watch the next time capsule open and to carry on the traditions we love so much–but we are confident our successors and our campers will.
Jessie Buresh, Camp Blogger