The first day of camp for campers is more than a week away… but here in Honesdale, camp is already alive with spirit as we welcome our staff back to Bryn Mawr Mountain for the summer!
To give campers a great experience, we rely on a great staff. Our employees come to camp with all kinds of experience coaching, teaching and working with children and teenagers. To complement that experience, get staff members acclimated to camp and set the tone for the summer, we spend the beginning of the summer staging weeklong training camps – one for leadership staff like group leaders and program directors, one specifically for riding staff, and one for our entire staff. Our full staff orientation, which we call Staff Week, started today, and it's exciting to see all our counselors together for the first meals and activities of the year – we know it means camper arrival is just around the corner!
Staff Week is modeled after a real week at camp. We follow the daily camp schedule as much as possible and strive to create a true camp experience for counselors so they're prepared to do the same for campers when they arrive.
One of the most important things we do during our staff training sessions is work to integrate our new and returning staff members into one cohesive group. Each year we welcome back many staff members who have been at camp before, and we also have many counselors, program directors and group leaders who are new to Bryn Mawr. Our top priority is making everyone feel at home, from the vets who have been returning to LBMC for decades to the new staff members from around the world, some of whom have never even been to this part of the country before. A counselor who is happy and confident is a counselor who is best able to focus on creating a safe and positive experience for her campers.
There are some times during Staff Week when meeting new people is clearly the objective of an activity – when we draw numbers for mixed tables at mealtimes, for example, or when we do group games and icebreakers. But we also take many opportunities to encourage staff to get to know one another in more subtle ways, through group discussions and activities, role playing and social events.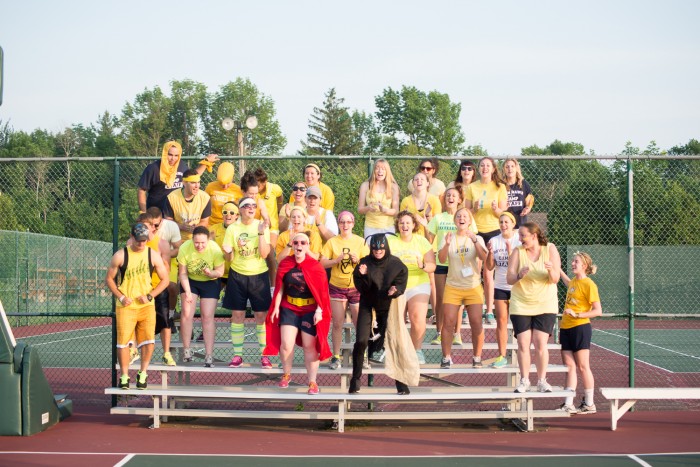 What's so important about making sure new and returning staff get to know one another? Well, it's exactly what we're going to ask them to help campers do in just about a week. Other than keeping campers safe and healthy, the most important part of a counselor's job in the first days of camp is making new campers feel welcome, helping returning campers readjust to camp life, and fostering a comfortable, friendly and homelike environment in the cabin. The best way we can prepare counselors to do that for campers is to make sure we do it for counselors! We lead by example in welcoming our counselors, and they learn through firsthand experience how a positive and nurturing atmosphere can help foster friendships among first-time campers and seasoned vets alike.
No matter how many times we watch the process unfold, it's incredible to witness: In the course of a week, perfect strangers become close friends. Staff members know they've had a full week packed with unique experiences and new friendships; what they don't always realize is that they've also been preparing to help recreate that welcoming experience for the campers who will be stepping off the buses in just a few short days.