Joining the Lake Bryn Mawr Camp staff this summer is Meryl Heller, who will be an assistant division head in Junior Camp. Meryl's perspective on life at camp is impacted not only by her own love of camp but by her dual role — you see, she's not just a member of the leadership staff. She's also a camp parent! We sat down with Meryl to talk about camp life from her three points of experience: as a camper, a parent, and a staff member.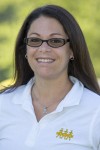 LBMC: Tell us about yourself!
Meryl: I grew up in Millburn, New Jersey, and then went to the University of Maryland, where I studied speech and audiology before earning a master's in special education from Montclair State University. I'm married with two daughters, and now my family lives in Randolph, New Jersey. I teach at Deerfield School in Short Hills. I love to stay active with volleyball and tennis, and I also love Mah Jongg.
LBMC: How long has camp been part of your life?
Meryl: Since I was a little girl! I went to sleepaway camp for the first time at age 7. I switched camps a few times to try different things (one of my camps didn't have a swimming pool — that was a deal breaker for me!), and then I did a summer college program and teen tours when I got older. I didn't find my summer home until I came back to camp as an adult.
LBMC: This is your first summer at Bryn Mawr, but it isn't your first time working at camp, is it?
Meryl: Not at all! I started working at Jeff Lakes Day Camp as a waterfront counselor in 1991. With the exception of a couple of summers off, I was there every summer through 2015 — a total of seven years at the waterfront and 13 summers as a division head. I will miss my Jeff Lake family, but I'm looking forward to this new adventure.
LBMC: You'll be working with Jocelyn and Eliza in Junior Camp, where many of your campers will be making the transition from day camp to sleepaway camp.
Meryl: That is something I will have in common with some of our campers! I think that gives me some perspective that will help make that transition a positive one for them and for me. My role is not just to be a parent but to help coach campers through the camp experience. Sleepaway camp is different from day camp because you're away from home and family, and that can seem scary, but it also gives us the gift of time to get to know one another and learn how to solve problems together.
LBMC: How is sleepaway camp a unique environment for problem-solving?
Meryl: At day camp, you go home every day, and if a camper had a hard day or a challenge with a friendship, she might not have had the chance to resolve that before the end of the day. As a parent, it's hard to know how to help your child approach solving these problems. But at sleepaway camp, where we're all together all day and all night, there's time to talk together, understand each other's perspectives and feelings, and find solutions together. Healthy friendships require work and communication, and I'm happy to be one of the adult role models who can help coach campers as they learn how to be good friends, good communicators and good problem-solvers.
LBMC: You're not just a camp staff member; you're a parent of two Bryn Mawr Angels. How does that affect how you approach the job?
Meryl: I'm really excited to have found a summer home that I can share with my children, although there's a challenge that comes with being a camp parent as well. It's important to me that they have the same opportunities for independence as every other camper. I want them to have the fullest camp experience possible. Although I'll be at camp with both my girls this summer, my older daughter started camp last year, so I can appreciate some of the nervousness and uncertainty that first-time parents in particular may experience. I know what it's like to put your daughter on that bus on the first day and say goodbye! And I also know how exciting it is to get her letters and phone calls and see from photos on the website how much fun she's having as she adapts to camp life.