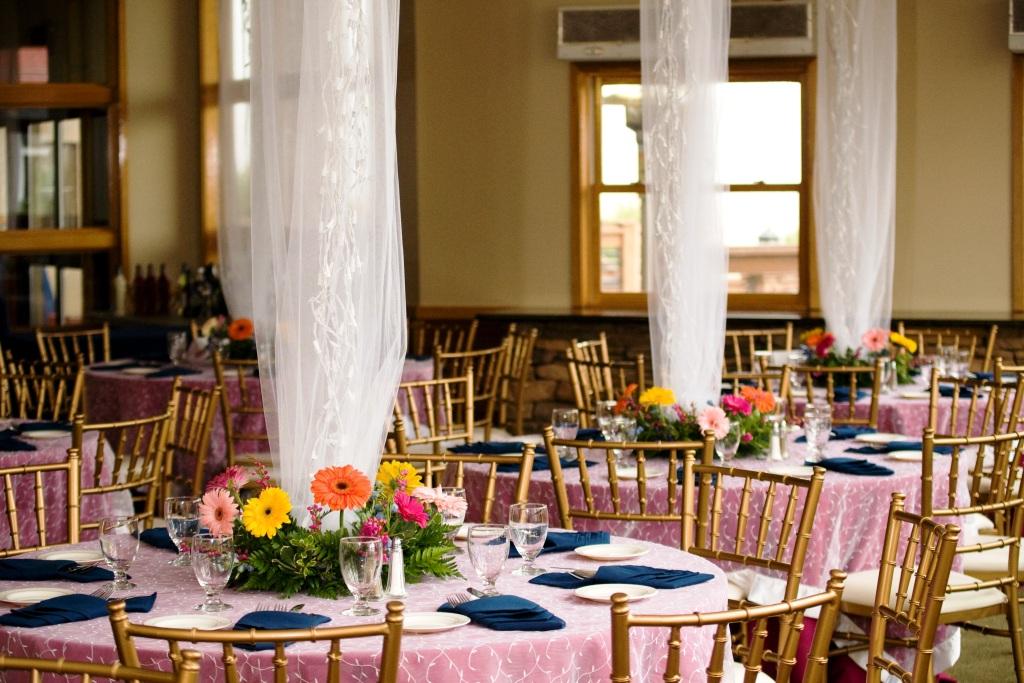 One of the things we love about camp is having the chance to watch our campers grow up. Every year at our end-of-summer Banquet, we are amazed as we look at the group of Bunk One girls leaving camp as mature, self-possessed young women — and think back to when they were Manor House campers who couldn't tie their own shoes or pour their own milk!
As camp directors, we have enjoyed sharing in campers' rites of passage outside of camp, too. We've celebrated with many of our campers as they have made their Bat Mitzvahs — and in fact, we've worked with more than a few campers to host their Bat Mitzvah celebrations at camp.
For many years, the Bryn Mawr facilities have enjoyed year-round use as the Bryn Mawr Mountain Retreat and Conference Center. Once the summer season is over, we begin welcoming school groups, corporate functions and weddings to campus. Our event spaces can accommodate large groups all through the year. But our very favorite Conference Center events are the Bat Mitzvahs our LBMC families have held on camp!
Since we started hosting Bat Mitzvahs at camp over a decade ago, we've been privileged to share this important rite of passage with quite a few camp families, and we've seen and done it all. A summer camp-style Bat Mitzvah can be a low-key, casual affair for a few friends, but we've also played host to beautiful formal events (you should see the dining hall transformed for a magical evening) and weekend family camp celebrations, complete with a day of Color War competition personalized with the Bat Mitzvah's favorite themes and colors. We do our own catering on camp and work with local vendors for lots of events, so we can help set you up with a DJ, florist, hairstylist… you name it. (We can even find some Bunk One alumni to help you write Color War songs and cheers about the girl of honor!) Depending on the season, we can accommodate groups of many sizes, and we've had a lot of fun creating mini-sleepaway-camp experiences for our Bat Mitzvahs and their friends and families. Guests at spring and fall events can take advantage of our outdoor facilities, from the tennis courts and playing fields to the ropes course and zipline – and, if the weather's warm, the lake and pool. How about a Bat Mitzvah bucket brigade, tennis tournament or canoe race?
Campers who have celebrated their Bat Mitzvahs at camp have shared with us how special it was to be able to mark this important event in their lives at a place where they feel they've grown up… and it feels especially satisfying to enjoy their big night in the same dining hall where they spent so many summer afternoons working hard at their Hebrew tutoring. Our Conference Center staff are also popular members of our summer leadership team, so the counselors and leaders for our Bat Mitzvahs' special weekends are adults who know and love them. Sometimes we've even been able to arrange for favorite counselors, group leaders or program heads to attend as chaperones for the weekend!
(Brothers and others don't need to feel left out… we also host Bar Mitzvahs, weddings and celebrations of all kinds, even if you don't have a daughter who attends Bryn Mawr.)
If you're looking for a unique venue for your celebration, you can learn more about Bryn Mawr Bat Mitzvahs by visiting our conference center website at www.BrynMawrMountain.com, or just give Dan a call at (888) 526-2267. They'll be happy to talk to you about what a camp Bat Mitzvah is like and to put you in touch with our Conference Center team.