"Tears that Angels Cry" is a song you might go your whole life without hearing if not for Bryn Mawr. To the Bryn Mawr family, it only takes three notes of the song to know what is happening: The Angel Ceremony.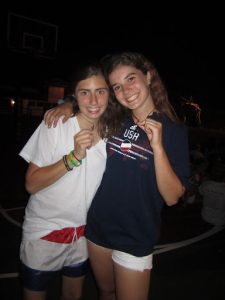 One of the most special traditions at Bryn Mawr is our Angel Ceremony. In Bunk One, each camper receives a silver angel. Dan always starts this ceremony by saying that the value of the angel is not in the silver, it is an intrinsic value — the symbolism that connects you to Bryn Mawr, your camp memories and all former and future angels. Each year, this sentence brings more and more meaning to me.
The angel that I received when I was in Bunk One connects me to my camp friends and my memories as a camper, but also to all other alumni that I have come across in different paths of life since finishing camp. Bryn Mawr is the most special connection, and each and every time I see a former Angel, I feel special to be a part of this giant family!
Over the years, the symbolism of my own angel has come full circle. Since returning to LBMC as a member of the staff, having the opportunity to give a new group of Bunk One girls their angels has been extremely special for me. My angel not only connects me to my friends and my experience, but to the girls that experience that same Bunk One magic each and every year. I am counting the days until I am on that stage, Dan and Jane cue the music, and we can give the '20-'21 Super Seniors their angels.
Love,
Eliza