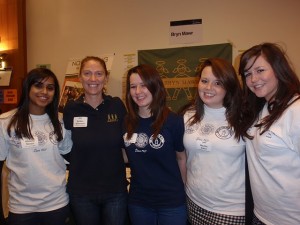 When we meet people and tell them we're camp directors, the number one question we hear is: "But what do you do all winter?" If they only knew! It really does take a whole year to plan for camp, and work is already beginning on the next summer as soon as the buses roll off Main Campus in August.
One of the biggest projects we have to handle is hiring staff members. During the summer, we employ more than 200 staff members. Even with a 40% staff return rate (over 90% for leadership staff), we still need to hire, a handful of leadership staff, counselors and support staff. An average of three to four staff members are hired each week to make sure all our positions are filled by the time we're ready to open summer camp.
We thought you might like to know a little bit more about our hiring practices and the process applicants go through on the path to becoming Bryn Mawr staff members:
Application
Over the years, Bryn Mawr has formed strong working relationships with professors and coaches at colleges and universities across the United States. Because of these relationships, we have been able to offer students both the ability to fulfill internships and college credit while working at Bryn Mawr. Most of the counselors who have taken advantage of this opportunity have been studying elementary education, early childhood education, physical education, psychology, social work, kinesiology, sports management, or another major that pertains to working at camp. The partnership that we have made with these schools has allowed us to recruit counselors who have a strong desire to work with children and have dedicated their futures to that goal.
The vast majority of applicants come directly to Bryn Mawr through our website and veteran staff referrals. We have been accepting online applications for more than a decade, and we like knowing that applicants who apply online have had the opportunity to read our in-depth introduction to the life of a camp counselor and learn about Bryn Mawr's mission and values before they decide we're the right camp for them.
We receive many hundreds of applications every year, and we screen them to ensure the applicants are qualified potential counselors. About half of these applicants move on to the next step.
Interviews
Applicants with promising applications are contacted for an initial screening interview. This call is a chance for us to learn a little bit more about the applicant, ask any follow-up questions we may have about her application, tell her a few things about camp, and determine whether she could be a good fit for Bryn Mawr. About two-thirds of applicants are then scheduled for a full interview.
Our full staff interviews are conducted in person whenever possible; as we attract applicants from all over the country and the world. Since we've already learned quite a bit about the applicant's background at this point, we spend the full interview getting to know her personality, interests, background and values — the whole person! We extend job offers to about half of the applicants who make it to the full interview — as long as they clear the next step in the process.
Background Checks and References
Each staff applicant is required to provide us with several professional and personal references — former employers, coaches, professors or other adults who can testify to the applicant's suitability for camp life. All reference checks are completed over the phone and can take over 20 minutes each. In addition to these references, we conduct a criminal background check and search the United States Department of Justice National Sex Offender database for every applicant to whom we offer a job.
International Staff
By working with a handful of trusted agencies, we love that we are able to hire a small select number of staff members from around the world! They bring unique perspectives to camp and teach us all new things. (We've even had returning campers beg Jane for "a counselor with an accent!") Assistant Director Britton Bitterman travels overseas with other camp directors to interview potential staff members at camp fairs around England. These trips abroad are great chances for our leadership staff to reconnect with veteran counselors and meet potential employees in person before deciding they're the right fit for Bryn Mawr. Of course, that's a lot to explain when people ask us what we do all year… so we usually just answer, "Oh, you'd be surprised!"