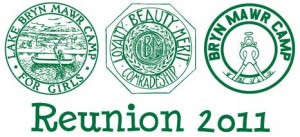 December — it's the time of year that's furthest from camp. Holidays, projects and exams, winter sports and vacations occupy our campers' minds. That's why every year around this time, when the days are shortest, we set aside an afternoon to revive camp spirit at our annual reunion in New York City. It was terrific to see so many of our campers and staff from summer 2011 this weekend!
Reunion is a chance for our campers to get together in the middle of the year, when it seems like summer will never come again, reminisce about the memories they've made in summers past, and get excited about the summer to come. Whether we're signing reunion t-shirts, watching a magician, watching the summer highlight video or just hanging out and having a good time, reunion is a special time to celebrate the precious friendships that are formed at Bryn Mawr. Although it's always a little strange to see our campers dressed in their winter clothes without a uniform T-shirt or tennis shoe in sight!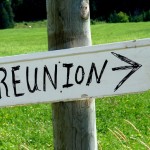 Our campers stay in touch with one another all year long, but they don't often get to spend time all together with their bunkmates away from camp, and the excitement level at reunion is so high it can probably be detected by weather satellites! We never fail to get a little emotional as we watch the girls run into the arms of their "summer sisters." Even with snow on the ground and frost in the air, it's as though we've been transported straight back to summer.
That's one of the special things about the friends girls make at summer camp — they are devoted, dedicated and close in a very unique way. Living together day in and day out, summer after summer, campers get to know one another as well as if they were sisters. When they see each other after a separation, it's a lot like a family reunion. They pick up where they left off, as comfortable with each other as they were the last time they were together. It's no surprise, then, that camp friends stay in touch long after their summers at camp are over, going on to be college roommates, bridesmaids, honorary aunts to one another's children and friends for life. We know our campers talk about "living ten months for two," or counting down the days until they can get back to camp, but when we see their excitement at reunion, we know they really mean it.
Reunion is a great time for the camp leadership and staff to be reminded of the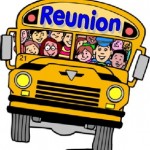 importance of what we do, too. We love the chance to check in with our campers, recall the adventures of the previous summer and update them with the latest developments at camp. Winter is our planning time for camp, and seeing our campers gives us a great big burst of excitement for the summer to come and all the new activities, events and outings we're setting up for next year.
More importantly, we get to see the happy faces of the campers we care for each summer as they hug one another and chatter about their plans for next year. It's a wonderful reminder for us that what we do is bigger than making sure the tennis courts get resurfaced or finding the best dressage instructor for our riding lessons. We work to make camp a safe, loving place where girls can feel free to be themselves and confident in their relationships with one another.