Bryn Mawr counts on a staff of 150 hardworking individuals to bring summer magic to life for our campers!
General Counselors
General counselors live in cabins with campers. Most bunks have 10 to 12 campers and two counselors. The two types of General counselors are Cabin Specialists and Program Specialists. Cabin Specialists spend the day traveling with their bunks to program areas while Program Specialists have expertise in a specific activity and work full-time in that program area. In some instances a Program Specialist may work part-time in a program area and spend the remainder of the day with her cabin. All staff are responsible for the physical and emotional well-being of their campers.
Program Directors
A program director is an experienced professional, generally a college graduate, who oversees a specific program area or areas. Program directors live in staff housing and assist with evening camper supervision, as well as helping to plan and coordinate all-camp activities and special events.
Group Leaders
Group Leaders are responsible for taking care of the campers and staff in an individual age group. Often older college students or grads with experience at camp, our GLs help ensure a comfortable living environment for everyone on Cabin Row.
Leadership Staff
We also have a core Leadership Staff of administrators who supervise the program and life on Cabin Row to make sure everyone is having the best summer possible. Each administrator helps keep things running smoothly for the group leaders, counselors and campers in his or her division or area. These women and men are experienced members of the Bryn Mawr staff who are always prepared to help solve a problem or resolve a conflict.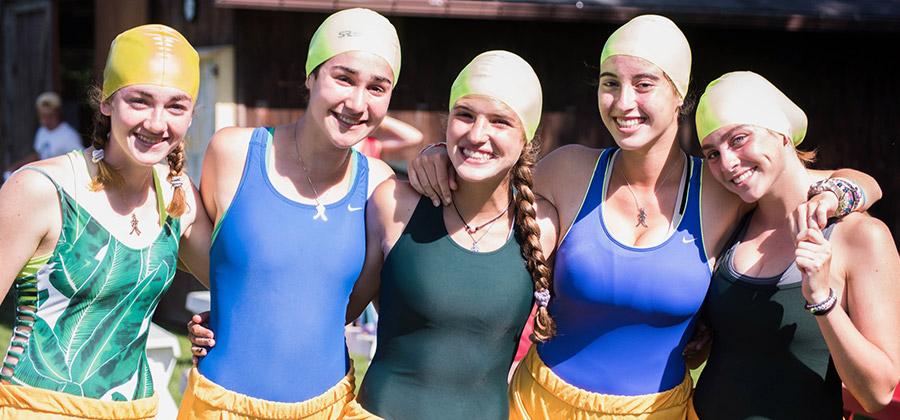 Male Staff
We do hire a limited number of male staff each summer, primarily very skilled specialists in program areas like tennis, athletics and adventure. Male staff live in separate accommodations and have some additional responsibilities to help keep camp running smoothly.
Medical Staff
Our medical staff is a crucial part of the camp community. We employ a team of nurses to dispense medications, triage and treat campers and staff who are ill or injured, and respond to other medical needs. Nurses must be licensed RNs and obtain Pennsylvania licensing (we will assist with this process).
Support Staff
Camp could not function properly without our Support Staff, who work around the clock to take care of all of our campers and staff. Our hardworking kitchen staff assist in the preparation, serving and cleanup of three meals and two snacks daily, plus additional duties as requested. Laundry staff work at our commercial facility in Honesdale. Each cabin's laundry is sent out twice every week. Our maintenance staff care for 78 groomed acres of land and approximately 50 buildings, including lawn and grounds work, indoor and outdoor building upkeep, and response to emergency situations.