Campers live in cabins grouped by age in an area of camp known as "Cabin Row." Each cabin houses between eight and 14 campers and is overseen by two or three counselors. Each age group has one or two group leaders and is part of a larger division led by a Division Head.
Manor House, Lodge and Junior Camp
As our youngest campers, most Manor House residents (who are going into second and third grade) are experiencing Bryn Mawr for the first time. The Manor House is part of Junior Camp but is overseen by the "Manor House Mama," a special group leader who coordinates operations within this age group. Manor House counselors must be loving, patient and sensitive, but with a strong sense of creativity and fun. Most of our first-time campers are juniors, and these age groups require counselors who are nurturing and caring, upbeat, organized and energetic. Junior campers, entering 2nd to 5th grade, are accompanied by counselors when they go to their activities. Campers going into 6th grade travel by themselves, but still require a loving and energetic counselor.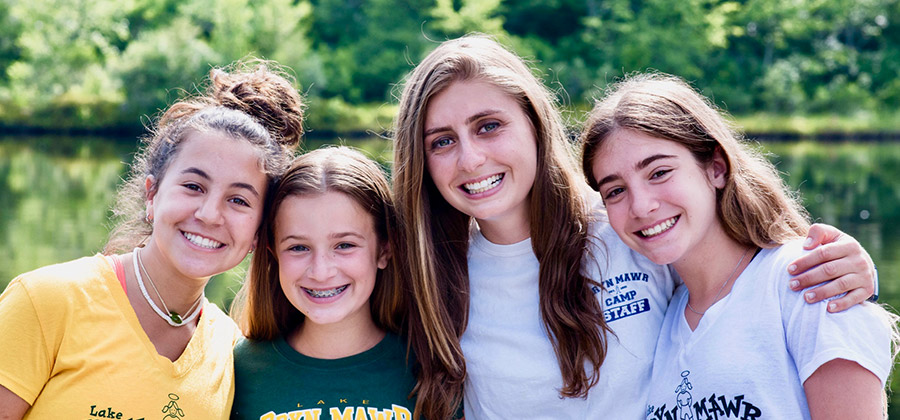 Senior Camp
Senior camp campers going into seventh and eighth grades. Although there are some new campers in this division, most are returning for their third, fourth or fifth summers. Seventh graders are experiencing Senior Camp and its accompanying privileges (electives, socials with boys' camps, overnight trips) for the first time, while eighth graders are preparing to assume a leadership role in camp. While these campers still require supervision, they travel to activities unescorted. Counselors in this division must be patient, creative, understanding and resilient.
Bunk One and Bunk Two
Our oldest campers in Bunk One (tenth grade) and Bunk Two (ninth grade) are camp leaders, responsible for setting a spirited tone for the younger girls. A Bunk Two counselor's most important job is helping her campers make the adjustment from a small cabin group to living in one bunk with as many as 50 other girls. She should be creative, resourceful and able to handle pretty much anything. Bunk One campers have a variety of leadership obligations, from cheering up homesick campers to leading the weeklong Color War in August. Bunk One counselors must be energetic, positive, flexible and able to understand the girls' commitment to camp spirit and traditions.